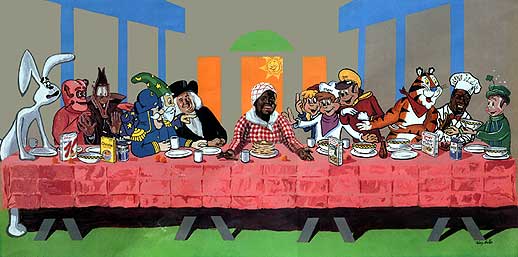 Picture is ©1996 Aubrey Hallis
In 1996, my cousin Aubrey Hallis completed this painting. It's titled "The Last Breakfast". I found it to be a brilliant parody of Leonardo's famous fresco and hung it proudly in my room when Aub sent me a print.
The picture was displayed in Canadian art shows in Calgary and North Battleford, (you can read an article about it by CLICKING HERE) and received a bit of controversy over its humorous depiction of what many religious folks deemed a "sacred cow". To me it was a great statement about capitalist culture and the icons used to sell us our new mythologies.
So yesterday I'm checking the news as I always do and I came across an article that surprised me..

---
The article, which was in Yahoo news in 2001 said the following:
Thursday February 22 9:55 AM ET
'Last Supper' Painting Stirs Tempest

CHICAGO (Reuters) - A painting in which advertising icons ranging from Tony the Tiger to Aunt Jemima replace the figures in Leonardo da Vinci's ``Last Supper'' has stirred up a minor tempest at a Chicago-area art museum.
The Chicago Athenaeum has received more than 100 calls protesting the piece, but also a number of favorable calls and positive comments from visitors, Kristin Kaufman, director of education at the museum in nearby Schaumburg said on Wednesday.
``It really is pro-religion by saying that corporate America has too much say in peoples' lives,'' she told Reuters. The work by Chicago artist Dick Detzner is titled ``The Last Pancake Breakfast.''
It features a bottle of Mrs. Butterworth's pancake syrup as Jesus at the center of the table flanked by Kellogg's ``Snap, Crackle and Pop,'' ``Cap'n Crunch'' and the other symbols as the Apostles.
---
When I realized this was NOT Aubrey's painting, but one done by another Chicago based artist Dick Detzner, I got extremely pissed. Obviously he had seen Aubrey's work and had ripped him off. Now he was getting all the credit and controversy, which is the stuff artists live for! I wrote an angry letter to Mr. Detzner after I found his web site, which had his "Last Pancake Breakfast" in his online gallery.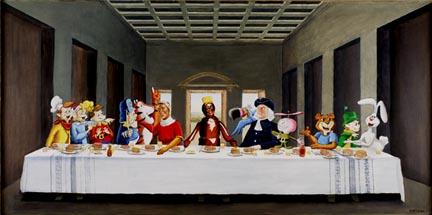 Picture is ©2000 Dick Detzner
The similarities are incredible. Both pictures have Captain Crunch as Judas, both have Snap, Crackle and Pop, The Trix Rabbit, Tony The Tiger, Lucky The Leprachaun and the Quaker Oats Man. Both have Aunt Jemimah, although Aubrey's painting has her as the Christ figure while Detzner's has Mrs. Butterworth in that role. Still, it is amazing both have a female advertising icon in the center. This was obviously not a case of pure coincidence... or was it?
---
Later the very same day, Dick Detzner wrote a response to my letter:
Thanks for writing. I've never heard of Aubrey Hallis, although (s)he sounds like a kindred spirit. I can assure you that I've never seen or heard of this particular treatment of the Last Supper (or any version of any of the scenes I've depicted) before. Where can I find information about him/her? Is there an image of "The Last Breakfast" available on the web? I've tried a number of search engines and the image doesn't come up, although I did see a site for the Aubrey Hallis club.
Sincerely, Dick Detzner
---
Aubrey (whose a guy, by the way) is not what you would call a high profile artist in the art world. Although he's had shows around Canada and has done numerous paintings, videos and comic strips, he has not appeared in any major art publications or gotten into the international news like Dick Detzner has thanks to this painting. Mr. Detzner is probably telling the truth here when he says it's just an uncanny synchronicity.

Any comments? What do you think?